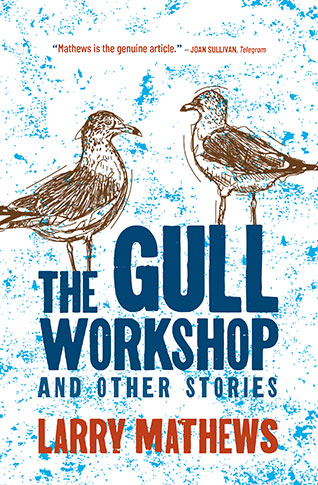 The Gull Workshop is a collection of stories that features a unique combination of thematic seriousness and comic style.
The characters in The Gull Workshop are often in search of something—call it authenticity, a basis for living a meaningful life, or leave it unnamed. However it's defined, these characters are unlikely to find it. This is a book about the comically fruitless quest for meaning and authenticity; the thirteen stories are set in locations across Canada.
The prose is as witty, brilliant, and engaging as the stories are imaginative. One features a theme park with attractions based on the Book of Revelation. In another, the nineteenth-century French poet Arthur Rimbaud takes up residence on the fringes of an unnamed rural community in Canada in the early twenty-first century. Others are more rooted in realism: there's the guy who lives in a basement and rants entertainingly about pretty much everything, but especially the woman who lives upstairs, whom he hopes to save from what he calls "a life of blandness." On every page there's something to smile at, as the world of The Gull Workshop brims over with weird characters and comic situations, from the man who was once the apprentice of a world-famous taxidermist to the protagonist who's deeply concerned about a brick on his patio that mysteriously changes position overnight.
ISBN: 9781550819731 , 9781550819748
Item Publish Date: 2023 / 05 / 15
Measurements: NIL
Weight: 0.5 kg
Page Count: 224