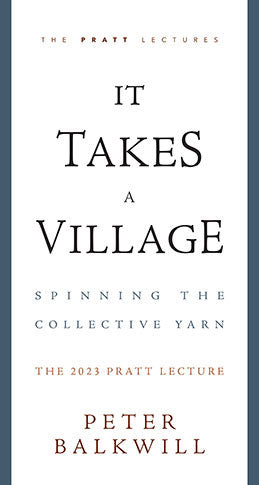 It Takes a Village: Spinning the Collective Yarn reflects on the collaborative process through which we discover our singular stories. It argues that sharing oral traditions is the best means to blaze pathways to performance.

Every day we tell stories, and listen to them, in countless exchanges with people in all walks of life. Not all of the stories we tell are ours. Our stories are raised up from the communities that are our people, and they are added to the words that end up making us who we are. How do we find the ones that let us land here and now?

Peter Balkwill's It Takes a Village: Spinning the Collective Yarn is the 2023 Pratt Lecture, the oldest public lecture at Memorial University of Newfoundland and Labrador. The Pratt Lectures were established in 1968 to commemorate the legacy of E. J. Pratt. Over the years, the series has hosted world-renowned authors and scholars, including Northrop Frye, Seamus Heaney, Helen Vendler, Mary Dalton, George Elliott Clarke, and Dionne Brand.
ISBN: 9781550819656 , 9781550819663
Item Publish Date: 2023 / 03 / 01
Measurements: 7.5 in X 4 in X .25 in
Weight: 0.001 kg
Page Count: 64