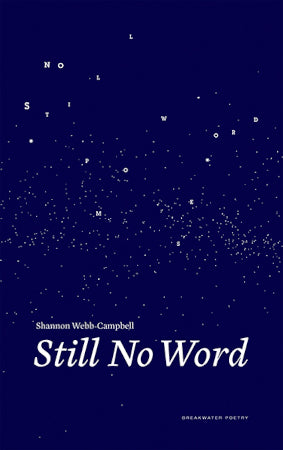 EGALE Canada Human Rights Trust OUT IN PRINT Literary Award Winner!
Shannon Webb-Campbell's Still No Word seeks the appearance of the self in others and the recognition of others within the self. Patient, searching, questioning, and at times heartbreaking—these poems reveal the deep
past within the present tense and the interrelations that make our lives somehow both whole and unfinished. And though Webb-Campbell is political at times, this is not politics for the sake of politics: here, it's a matter of the human heart. Ranging from reflective to angry, from sensual to humourous, her poetry inhabits that mercurial space between the public and the private, making Still No
Word a remarkably accomplished debut collection.
EGALE Canada Human Rights Trust OUT IN PRINT Literary Award-2014
ISBN: 9781550815887 , 9781550815894
Item Publish Date: 2015 / 03 / 03
Measurements: 7.75 in X 5 in X .25 in
Weight: 0.25 kg
Page Count: 96