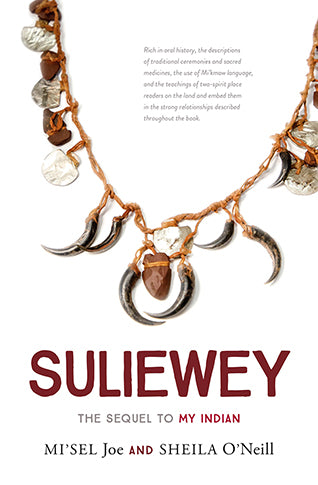 Suliewey: The Sequel to My Indian continues the story of Mi'kmaw guide Sylvester Joe, whose traditional name is Suliewey, as he seeks out the last remaining Beothuk community.

In My Indian, Sylvester was hired by William Cormack in 1822 to guide him across Newfoundland in search of Beothuk encampments. In fact, he followed the advice of his Elders and guided Cormack away from the Beothuk.

In this sequel, having parted ways with Cormack at St. George's Bay, Sylvester decides to go out on his own, in search of the winter camp of the last of the remaining Beothuk.

Written as fiction by two Mi'kmaw authors, Suliewey supports Mi'kmaw oral history of friendly relationships with the Beothuk.

The novel reclaims the settler narrative that the Beothuk and the Mi'kmaq of Newfoundland were enemies and represents an existing kinship between the Mi'kmaq and the Beothuk.

Rich in oral history, the descriptions of traditional ceremonies and sacred medicines, the use of Mi'kmaw language, and the teachings of two-spirit place readers on the land and embed them in the strong relationships described throughout the book.
ISBN: 9781550819885 , 9781550819892
Item Publish Date: 2023 / 09 / 15
Measurements: NIL
Weight: 0.5 kg
Page Count: 232